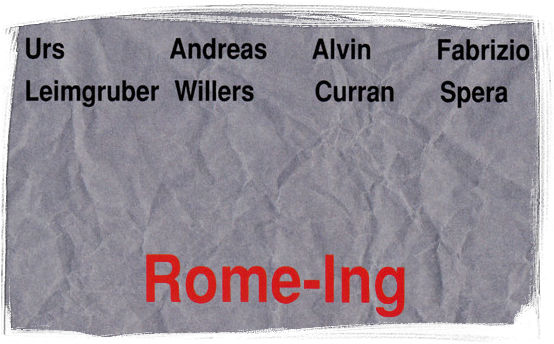 track-list
1. rome-ing part I (17:50)
2. rome-ing part II (24:27)
3. rome-ing part III (9:16)
4. rome-ing part IV (17:17)
crédits
musique par leimgruber / willers / curran / spera
publiée par alissa publishing / ors
enregistré live au casa del jazz à rome/italie le 22 novembre 2018 par asciano linzi
mixé par alexis baskind
mastering par stefan noltemeyer
une release leo records
« expressive playing manner, hilarious, hysteric, sharp and passionate solos, spontaneous improvisations, immediate responses and remarkable melodies – that's the main compounds of rome-ing compositions. the musicians manage to create a multi-layed, bright and organic pattern. it's based on wide stylistic variety – from static traditional rhythmic series to fantastic free improvisations, sonoristic experiments, modern innovations and the basics of experimental jazz. this wide spectre of various jazz streams is created here – despite of relations to modern and contemporary jazz, contemporary academical and experimental music, the improvisers base their music on the fundaments of free improvisation and avant-garde jazz. experimental and extended playing techniques contain the base of instrumental section. these elements are blended together with gorgeous timbres, bright passages, light ornaments and all kinds of coloristics.
(…)the music of this album is passing through different kinds of moods – from silent pauses it jumps on striking attacks, wild culminations, dreamy lullabies, passionate flows, transcendental light passages, expressive melodies or sometimes gets back to heavy, solemn, abstract, sophisticated, depressed and dark pieces. that makes an effort to original and exciting sound. »
avant scena – contemporary music blog
« the music is compiled in a shell of avant-garde jazz and free improvisation and is a mélange of traditional rhythms and sequences, with new ideas and inventions culling experimentations from free-ranging, technical skills. here again we discover a circumstance in which the musicians explore the relationships between composition and improvisation, and they do so with a vengeance, the saxophones passionate and vital, hugely expressive. audacious, hot piano chords invite inspired, sometimes chaotic responses from spera, who seems to draw on the entire gamut of experimental and inspirational sounds available from his instruments.
the music shifts between moods, at once it seems switching between weighty and tranquil, grave and dark, expressive, measured and meditative. yet still we find there is room for hysteria and passion, vibrancy and wit, which all-in-all adds up to a fine album of eclectic music with a unique and exhilarating sound. »